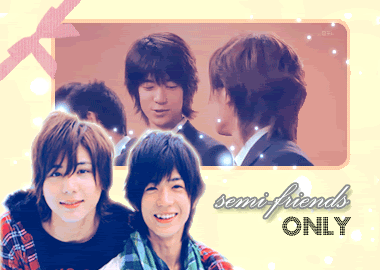 こんにちわ!!!
My name is Em. (エム)
*Just call me that. I get scared when I'm called with my full name.
*Obsessive fangirl
*GRAMMAR NAZI!!! >=]
*OK, fine, I'm biased and a
pedophile
. I love Hey! Say! 7 more than Hey! Say! BEST, but that doesn't mean I don't love them altogether. Hey! Say! JUMP will always be love. ♥
*I am owned by
Yamada Ryosuke
. I swear he'd always be perfect in my eyes.
*I spend
90%
of my time stalking Hey! Say! JUMP, specifically Yamada Ryosuke, because he's that awesome. :P
*My OTP is
YamaJima
. No, I won't be converted to other pairings.
KOREAN FANDOM:
*
SHINee
shines brighter than the sun.
*Kim Kibum/
Key
is opening my locked heart.
*OTP =
MinKey
++Journal is semi-friends locked because I lock my all of my rantings and personal stories.
++My fangirling is pretty much locked unless I feel like showing them to the public.
++My
fics
are pretty much public though, unless of course I write smut, and no, I don't think I can advance to that level...yet.
>>>If you're still up for my craziness and you still want to friend me, go ahead.
>>> BUT IF YOU WANT ME TO ADD YOU BACK, COMMENT HERE PLEASE. It's not that hard!
>>>I'M
NOT
ADDING ANYONE WHO SILENTLY FRIENDS ME. I did this post because I want to both introduce myself and as well as get to know you. Leaving a simple introduction like
your name
and
why you're adding me
would suffice.
I'M NICE AND FRIENDLY IF YOU'RE ALSO NICE AND FRIENDLY.
BUT IF YOU PUSH ME TOO FAR, I BITE.
DON'T ADD ME IF YOU'RE GOING TO CUT ME ANYWAY.
It just loses the purpose of going through all the trouble of adding me.
So if you plan to add me, make sure we have the same interests so we would be able to talk and not be dormant in each others' f-list~!
Yoroshiku!
Feeling:
happy
Hearing: Hey! Say! JUMP Playlist